What, you may ask, does a detached retina operation have to do with motorhomes or caravans? Well, quite a lot if you happen to be on tour at the time! This post is in "diary form" and documents events leading up to and folowling my detached retina operation. Please note, you are therefore reading my diary! This is not medical advice! If you are in any doubt what so ever about your eyes, seek medical help! This leaflet is of great interest and is available on the Hull eye hospital website.
Detached retina – my symptoms
Day 1 – woke up with a feeling of something in my right and a few small dots here and there. Unfortunately, did not pay much attention to this as the previous day, my six year old niece was slapping glitter make up all over her uncle!
Day 2 – no real change, but a few attempts made at bathing the eye.
Day 3 – many more spots – tiny dots all over my line of sight, plus some dots appearing to join up and look like a letter "S". Decided that, even though we are in Cambridge today, (22nd June), we will pop in to A&E at Addenbrookes hospital. Fortunately, this is next door to the Camping and Caravanning Club site, Cambridge, where we are in residence! A stroke of luck if ever there was one.
Detached retina – the treatment process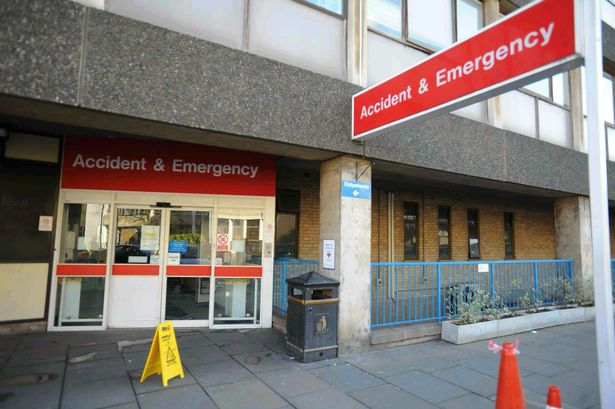 Very quick assessment by the nurses with the Emergency Department and then a referral immediately to the eye unit. Fortunately, Addenbrookes has its own eye hospital without the need to be shipped out! This is the second stroke of good fortune!
A quick coffee whilst we wait and then an examination by an eye doctor. Drops are added to dilate the pupils so that the doctor can see into my eye more easily. Fortunately, (again), there is also an eye consultant working today. She also conducts an eye examination. The consultant suggests an eye operation for a tear and a detached retina. We discuss the option to return to Yorkshire but speed is of the essence. Decision taken to have the detached retina operation at Cambridge rather than closer to home. Worry about the logistics of extending our stay with the CCC and getting the motorhome back north later.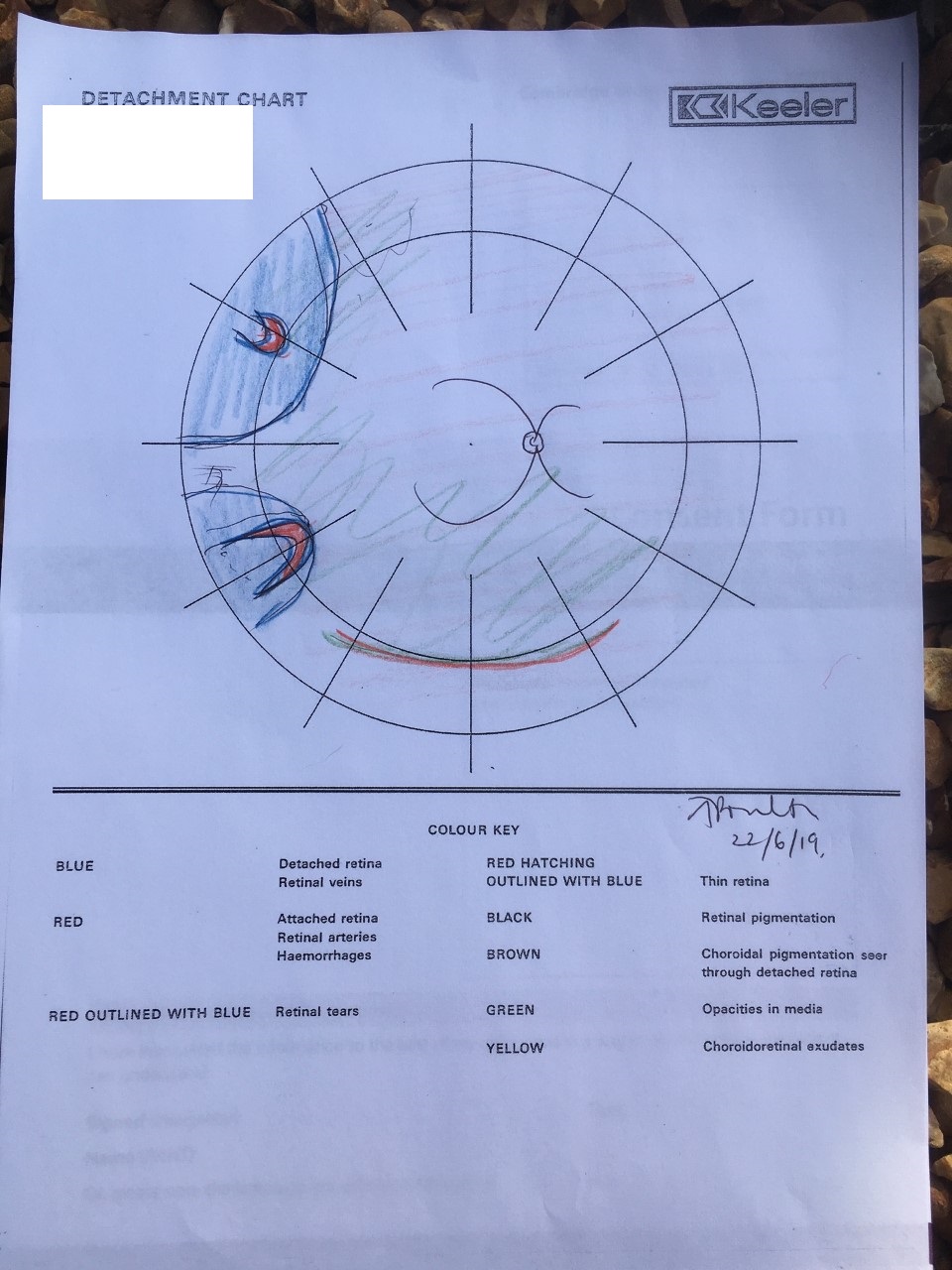 During the consultation, I learn that after having a detached retina operation, it is possible I will develop a cataract on the eye. My consultant states, "if you develop a cataract……we can perform surgery on that and remove some of your short sightedness". Cataract surgery involves the removal of the body's natural lens and replacing it with a new one. The new one will have a prescription, just like a contact lens. Consequently, this is how the short-sightedness is corrected. I explain that in the past, I have had two consultations for this lens replacement to be done privately. When asked why I hadn't, I reply "I daren't have the eye surgery". We both laugh at this, as that ship has clearly left the shore!
Detached retina operation – time for theatre
Day 4 – Sunday morning. No food after midnight and only sips of water! It's a general anaesthetic today! Arrival at Addenbrooke's hospital at 0745 for a morning operation. Allocated a bed, then the usual process of donning a gown, blood pressure, pulse rate and so on. Lots of medical staff coming and going, all of whom show the utmost professionalism yet are also friendly and welcoming. Everyone says hello and gives their Christian name. The bed is rather comfortable too! Free radio is available and there is also a telephone.
At 1030 approximately, my time has come. The bed is wheeled – with me on it – to theatre. More introductions and first name terms all round. One member of staff refers to my sun tan – particularly on my legs. We talk about our recent Italian holiday but very soon, I'm off to sleep!
Post operation – time to wake up
I did seem to take a lot of waking up. The nurse talking to me etc, but I prefer the sleep option. Back on the ward now and time for a selfie! There's a large patch over my right eye and a plastic shield. This means that my specs' won't fit on, so I can't see a great deal out of the left eye either! Lots of staff coming and going, checking blood pressure etc. There are oxygen pipes in place too, but I am hungry! No problem there, and in no time at all, soup, a casserole, veg and a cheesecake appear, with coffee. I need coffee – my daily quota of around ten cups per day is now only at one!
Post op consultation
Day 5 – an early start this morning, an alarm call at 0615. A nurse removes the eye patch and cleans the area. Some breakfast and then whisked by wheel chair to meet my consultant.
The surgeon checks my eye and we arrange to meet in three weeks – again at Addenbrookes. She now states "when you develop a cataract". Note when, not if. The white of the eye is very red and blood shot. It is not really painful, more uncomfortable.
Vision is very poor in the right eye. Basically, I can see only light and dark. I cannot make out shapes or even large objects – the motorhome is invisible! There is "bubble" in my eye too. This helps the healing process. There are two types of bubble that can be used – a gas bubble or an oil based one. I feel lucky to have a gas bubble. This will breakdown naturally over time. The oil bubble has to be removed by surgery. Imagine a spirit level – it is just like that. Move my head to the left – and the bubble moves right! This is a high tech motorhome levelling system!
Detached retina recovery
We will skip ahead a few days as there is nothing to really report. Vision remains terrible so I'm like a cyclops with one eye. It is more comfortable to keep the eye closed. This is not due to pain, but more to the lack of vision causing disorientation.
Three different types of eye drops are applied at regular intervals. It is also necessary to sleep on the left had side, thus the bubble will be on the right and assisting healing.
Day 9 – unusually, Motorhome Voyager has a head ache. It's a catch 22 – is it a headache or something to do with the eye. A trip to A&E (Yorkshire now) does not prove helpful. A call to Addenbrooke's suggests I contact an optician to arrange a pressure check.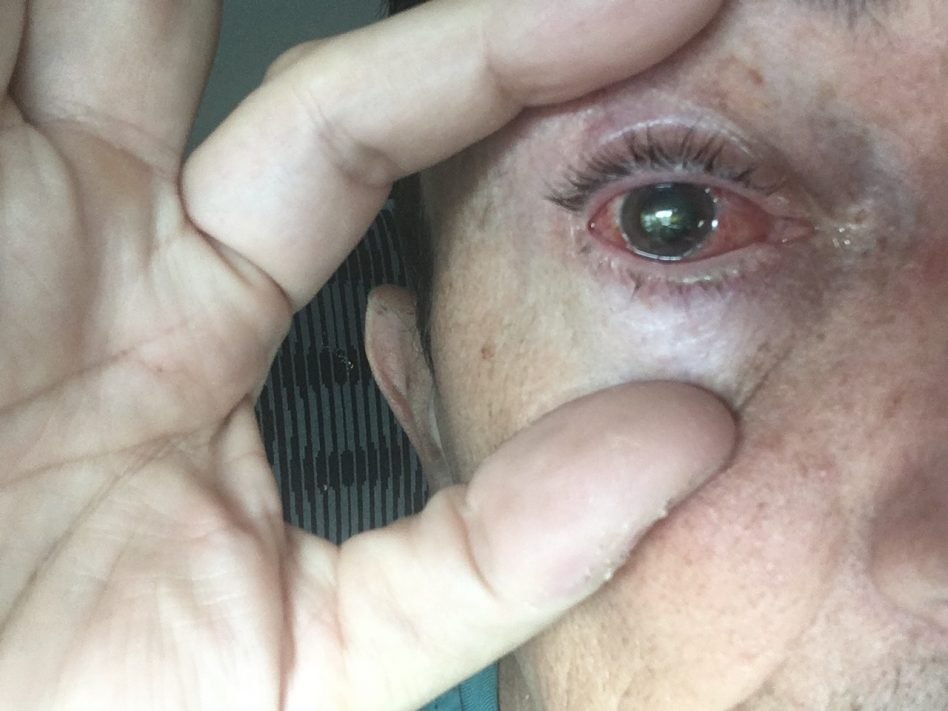 Day 10 – an unscheduled appointment with an optician. He does a pressure test and I relay the readings to Addenbrookes. All is well. The optician advises that a cataract has developed…. wow, that was quick!
Detached retina bubble
Well the bubble is still very much in residence. I do think however that today – day 14 – the bubble is starting to break down and move about more. I can describe this in two ways. Firstly, imagine opening your eyes under water – that is what vision is like. Secondly, if you wear contact lenses like I sometimes do, you will know what it is like when you get a drop of water behind the lens. It's the same feeling and level of vision. It is not painful. Also, the redness is lessening.
To be continued….!